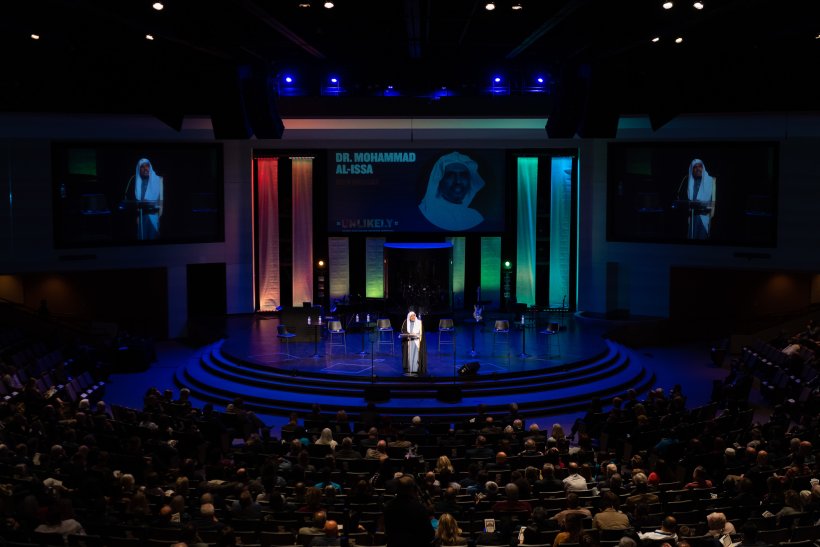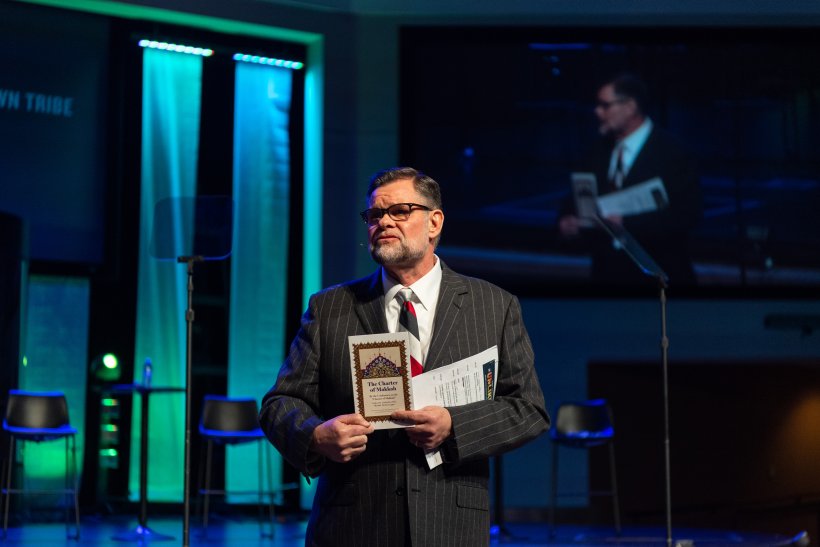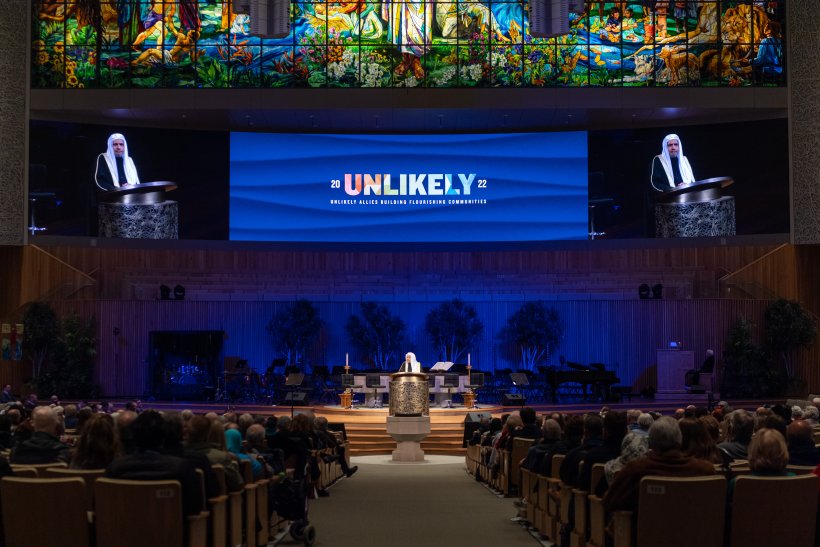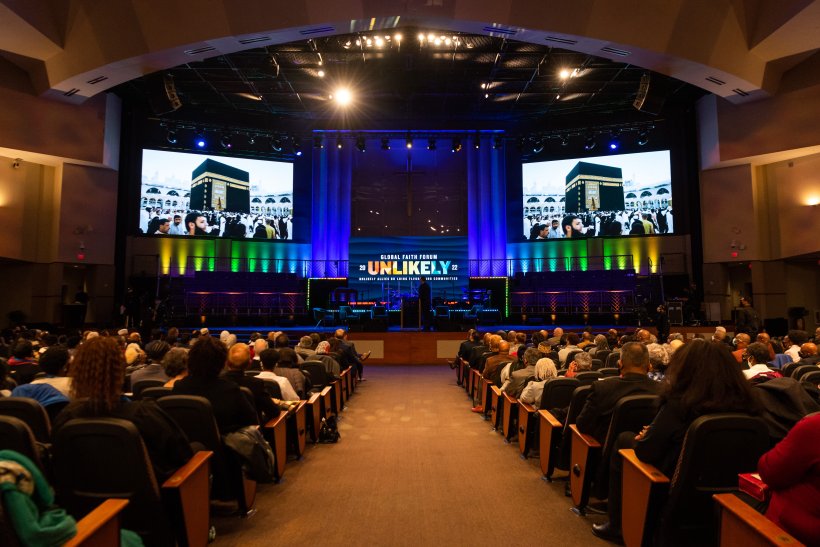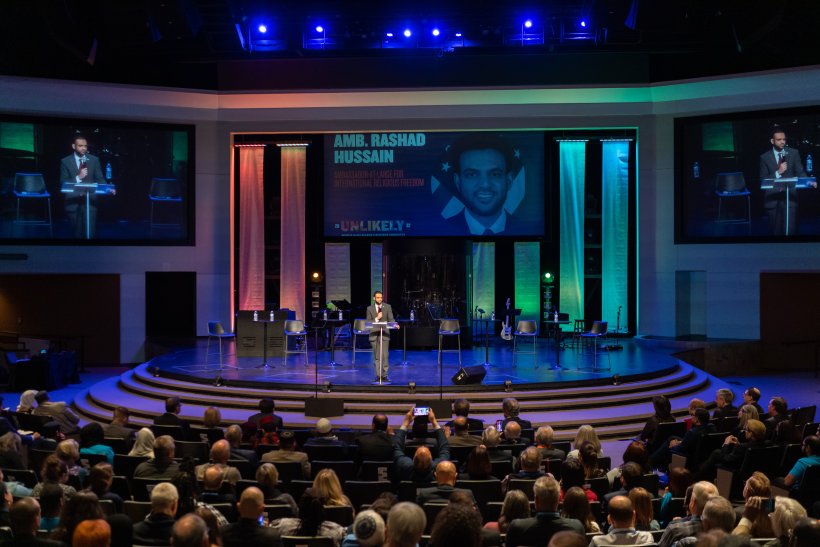 Dr. Al-Issa is the guest of honor of the International Religions Forum in three US states, under the motto: "Unlikely Allies building flourishing communities."
Latest News
With the participation of representatives of the US government, senior religious and community leaders, leaders of international organizations, and hundreds of thousands of people from around the world:
- Dr. Al-Issa meets evangelical leaders in the United States in three main cities which are most populated and has global influence.
- Dr. Al-Issa is the guest of honor of the International Religions Forum in three US states, under the motto: "Unlikely Allies building flourishing communities."
- Dr. Al-Issa addressing evangelical leaders and thousands of evangelicals:
- I am pleased that our dialogue today has produced a strong alliance supporting our shared values.
- Hate speech is the main cause of division and violence and must be criminalized in all legislation, with no leniency in its pretexts.
- Evangelical leaders in their final statement: The MWL is a strong ally to evangelicals that we relay on in working with on our common values.
- Evangelical leaders in their final statement: The MWL represents the Islamic religious reference in our speech.
- US Ambassador of Religious Freedom calls for cooperation among governments and civil society.
- Ambassador Saperstein calls for a global application of the keynote speech delivered by Dr. Al-Issa.
- The World Food Program Director: The lack of dialogue between followers of religions causes a lot of pain to all of them.
- Christine Caine: Since we help everyone regardless of their religion, we have to protect them regardless of their religion as well.
——————
Texas, Kansas, Maryland:
His Excellency Sheikh Dr. Mohammad bin Abdulkarim Al-Issa, Secretary General of the Muslim World League, was the guest of honor at the extraordinary event held by the "International Religions Forum 2022" under the motto: "Unlikely Allies Building Flourishing Communities." For the first time, the event was hosted by the three most important American states that embrace the American Evangelist Society whose number reaches more than 90 million. The state of Texas, which is the first and most important hub for "Evangelicals" in the world, followed by the state of Kansas, and Maryland, where you will find the largest American churches. Official of the US government, American religious diversity leaders, international organizations, American Muslim community representatives, and a constellation of influential religious, community, intellectual and academic leaders inside and outside the United States participated in the forum. A large audience numbering hundreds of thousands individuals in the three stations watched the event, which was also broadcasted live through various platforms.
The forum viewed an outline of the "Makkah Charter", and a welcome introduction to the guest of honor, His Excellency the Secretary General Sheikh Dr. Mohammad Al-Issa, in addition to a speech delivered by His Excellency the United States Ambassador-at-Large for International Religious Freedom. Then His Excellency Sheikh Dr. Al-Issa delivered the keynote speech at the Forum's opening session which was the topic of discussion of the opening sessions of the first day of the forum.
In his introductory speech of the guest of honor, His Excellency the Secretary General, Sheikh Dr. Mohammad Al-Issa, delivered by the United States of America main Evangelist church leader Bob Roberts who said: It is an honor to have Dr. Al-Issa to be the guest of the General Forum, he is the most renowned figure in the Muslim world as the leader of an organization that represents all Muslims. He is also the personality who carved his name on the annals of global peacemaking and building bridges between religions, cultures and civilizations, adding, "Dr. Al-Issa is a strong moderate voice that our world needs today to face the voices of hatred, racism and extremism, who enjoys great authority within the Muslim world, and strong influence on the international scene."
He continued: "We are proud of our strong partnership with the Muslim World League, led by Dr. Al-Issa, in its distinguished track to establish community coexistence and global peace, and to work together in bridging the gaps between followers of religions and cultures, especially hate speech, racism and xenophobia promoted by extremists, fanatics, and conflict advocates". He further stated that such exceptional leadership and these joint efforts "are what always give us hope of overcoming reality's crises, and to look forward to a better future for our world, where we are united by love, common interests and the will to wish good for our human societies."
He praised the "Makkah Charter", as presenting a different model in conveying the sophisticated image of Islam to the world, and its provisions which lay the foundations for justice, human rights and comprehensive human dignity.
Addressing the audience, His Excellency emphasized that real progress will only happen when action and courage along with unwavering determination generate a better world for all people, regardless of religious, national, ethnic, or other differences, saying that striving for change for the better "is not easy." Not in its initial acceptance, nor in the prompt response in time. Sometimes it will require a long time; all these elements combined require a steady and rational effort."
In the process of making change, Dr. Al-Issa noted the importance of productive meetings coupled with effective dialogues, in addition to the importance of inter-faith get together with followers of different religions and cultures, and the need to create a safe space for better understanding, love and respect within the spectra of human beings, adding in this context: "We must show everyone that our shared commonalities outweigh by far the elements dividing us in this life. We are bound by a common human destiny that should make us more sympathetic to one another."
His Excellency touched on the importance of the contents of the "Makkah Charter", which was endorsed in Makkah by more than 1,200 Muslim religious figures including muftis and scholar in a conference that was attended by more than 4,500 Islamic intellectuals from more than 139 countries, representing 27 Islamic sects. He pointed out that this charter is considered the most important Islamic document in modern Islamic history due to its comprehensive treatment of the most important contemporary issues and problems, and for the comprehensive support it received from leaders, scholars and academics who represent all Muslims of different sects, as well as the official support it received by states. It was adopted by foreign ministers of the Organization of Islamic Cooperation as a reference in the relevant national and regional institutions.
His Excellency concluded by saying: "We are happy to contribute in building a world in which there is no place for intolerance, discrimination and injustice in our human society, and we strive to promote a world that is more inclusive and equal. His Excellency praised the human values of the evangelical community and his happiness with the friendship between the Muslim World League and this community, which we consider a reliable ally.
After that, the United States Ambassador-at-Large for International Religious Freedom touched upon the protection of religious minorities around the world. Addressing the religious leaders, he said: "I want you all to know that we cannot do this work without you, as you are our partners in civil societies, and you often have more ability to reach your groups because they trust you. You have the credibility to work with them since you have been with them leading them for many years. I think the most powerful way we can do this work is through cooperation between government and civil society."
For his part, the former ambassador-at-Large for International Religious Freedom, Sam Brownback, said: "I believe that peace in the world will be achieved if the followers of the three Abrahamic religions can communicate with each other and agree to commit to dialogue and reject violence." He stressed that "the values on which the Abrahamic religions were founded reject violence and call for peace. We all belong to one grandfather, who is Abraham. We are brothers, and we must always remember that."
Former ambassador-at-Large for International Religious Freedom at the US State Department, David Saperstein, expressed his great admiration for His Excellency Dr. Al-Issa, as an inspiring professor and leader, calling for the keynote speech H.E. delivered to be published "all over the world."
The Executive Director of the United Nations World Food Programme, David Beasley, stressed that conflict teaches us something important. It teaches us that lack of communication between followers of religions causes a lot of pain to all of them. "We don't care about the religion of that hungry child, what matters is that he never starves again. We see the consequences of religious discrimination all over the world. At the end of the day, one does not think of the children he saved, but of the children he failed to save. Every four seconds, one person dies of starvation. A man should love for his brother what he loves for himself. If we could implant this principle in places of conflict, people would not fight" said Beasley.
"When we look at the religious backgrounds of human trafficking victims, they come from all religions in the world," said Christine Caine, a human rights activist. "Well, as long as they share the same pain, why not share the benefit? Man is the only being that God created In his image, and that he has dignity that must be preserved, and since we help everyone regardless of their religion, we must protect them regardless of their religion as well.
She emphasized that united action by followers of all faiths is the only way to end human trafficking and modern slavery.
The meetings of His Excellency the Secretary General of the Muslim World League with evangelical leaders took place in three cities in three American states. Leaders met in large celebrations attended by thousands of evangelicals in an exceptional scene. It was unprecedented for a non-evangelical religious leader to have such large non-evangelical audience. The Muslim World League represents the Islamic religious reference for evangelical leaders, and it is a strong and reliable ally to work with on common values as evangelical leaders stated in their final statement.